Jesus Christ Superstar
In association with The Ashburton Trust Event Centre, Variety Theatre Ashburton are proud to be staging Jesus Christ Superstar in August/September of 2021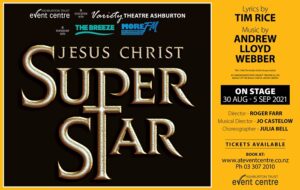 Directed by Roger Farr, Musical Director Jo Castelow and Choreographed by Julia Bell
Jesus Christ Superstar is a global phenomenon that has wowed audiences and is celebrating its 50th anniversary, Jesus Christ Superstar is a timeless work set against the backdrop of an extraordinary and universally – known series of events, but seen through the eyes of Judas Iscariot.
The story, told entirely through song, explores the personal relationships and struggles between Jesus, Judas, Mary Magdalene, his disciples, his followers and the Roman Empire. The iconic 1970s rock contains such well – known numbers as "Superstar', 'I Don't Know How To Love Him" and "Gethsemane"
Cast Members
Jesus – Matt Williams
Judas – Chris Woods
Mary – Murran Carter-Buller
Peter/Apostle – Toby lee
Simon/Apostle – Cameron Lines
Caiaphas – Oliver Livingstone
Annas – Neil Flux
Pontius Pilate – Brent Gray
Priest/Ensemble – Dennis Mabley
Priest/Ensemble – Dan Wilson
King Herod – Heath Walters
Maid In Fire/Apostle – Libby Higson
Solider – Peter Murray
Apostles – Abbey Marshall, Summah Ralston, Sarah Yeoman, Emily Jane Farr, Kate Galbraith, Eddie Galbraith, Ethan Chittock.
Dancers/Ensemble – Molly Milmine, Kasey Higson, Damasia De Villalobos, Kim De Joux, Leah Maw, Elizabeth Mullan
Ensemble – Tiffany McRae, Nicole Johnson, Anna Lischner, Tenielle Booth, Ella Neutze, Emma Petrie, Mark Cherry, Kelsey Jackson, Ellie Lawn, Audra Cuellar, Ian Jerao, Julius Magyaya.
Choir – Elizabeth Wells, Janet Glassey, Lorna Adams, Leita Joy, Olivia Swansbury, Phillipa Young, Rebecca Perkins, Megan McAtamney, Ruth Swansbury, Jane Argyle Reed, Maria Lawn, Sally Farr, Elliotte Strange, Viv Horsburgh, Rachel Nixon, Lisa Anderson, Ella Thomas, Emma Gilkison, Rochelle Castle-Wilson
TICKETS ARE ONSALE NOW!!
Monday 30th August – Saturday 4th September 7.30pm & Sundays 5th September 2pm
Available online from The Ashburton Trust Event Centre or at the Box Office 211A Wills Street