Jesus Christ Superstar 2021/2022
In association with The Ashburton Trust Event Centre, Variety Theatre Ashburton are proud to be staging Jesus Christ Superstar
DUE TO THE COVID LOCKDOWN IN AUGUST/SEPTEMBER JESUS CHRIST SUPERSTAR HAS BEEN POSTPONED UNTIL MARCH 2022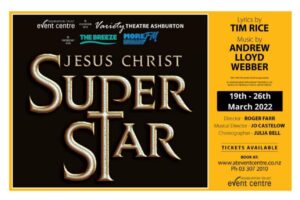 New 2022 dates for Jesus Christ Superstar Saturday March 19th 2022 – Saturday March 26th 2022
The 2022 Production will be Directed by Roger Farr, Musical Director Jo Castelow and Choreographed by Julia Bell
Jesus Christ Superstar is a global phenomenon that has wowed audiences and is celebrating its 50th anniversary, Jesus Christ Superstar is a timeless work set against the backdrop of an extraordinary and universally – known series of events, but seen through the eyes of Judas Iscariot.
The story, told entirely through song, explores the personal relationships and struggles between Jesus, Judas, Mary Magdalene, his disciples, his followers and the Roman Empire. The iconic 1970s rock contains such well – known numbers as "Superstar', 'I Don't Know How To Love Him" and "Gethsemane"
School Of Rock 2023
Variety Theatre Ashburton will be producing 'School of Rock' in May of 2023.
Show dates will be May 20th- 27th 2023
If you have any questions or queries regarding 'School Of Rock' Please get in contact